Our Process
We follow an automation process that is flexible, easy to personalize & execute.
Planning
Our team consults you on the project
at an early planning stage and ensures
seamless integration of all the components
of your home.
Model Home
We help you set up your model home &
personalize it as per the requirements
of your modern lifestyle.
Execution
Once all the structural requirements
are met, our team comes in for a
complete automation installation.
Hand-Over
At the time of hand over, our team
thoroughly demonstrates all of the smart
functionalities of your digital home.
Servicing
We provide an AMC contract for timely
servicing of the automation modules.
Our team of experts conducts a complete
servicing of the entire complex.

Shifting
Our wire-free automation modules are
easy to disconnect & re-install at
your next home.
Smart Home for a Smarter Lifestyle
Live a smarter, more comfortable & energy efficient lifestyle with Agoraa's complete home
automation solutions.
Single touch control over lighting
Smart lights that transform at your will. Control the lighting of your entire house with one app.
Change the light exposure with a single touch
Experience the luxury to control the exposure of lights as per your preference or the time of the day.
Transform your home as per your mood with one touch.
Switch to the party mode in a single touch. Change the lighting, background score & more as per your mood.
Single touch regulation of fan speed
Change the winds with at your whim without having to get up. Regulate your fan's speed from anywhere.
Single touch temperature control
Beat the weather & keep the atmosphere at your home pleasant and cheerful with smart air-conditioning control.
Pre-schedule geyser to warm up in a single touch
Stop unnecessary wastage of time by pre-setting your geyser to warm up the water at a fixed time.
Single touch curtain control for hassle-free mornings
Schedule the curtains to draw automatically in the mornings. Operate the curtains at your smart home with one touch.
Entire home at the command of your voice
Experience the true luxury of a smart home with complete voice control over all your appliances.
Easy scheduling of all appliances
Now all your appliances know when to turn on or off. Fix times for your appliances as per your daily schedule.
Single remote to control all appliances
No more nagging over the lost remote control. Use a single remote to control home entertainment & other smart devices.
Features
Wire-free Control | Real-time Alerts | Easy Scheduling
App Control
Control the entire ecosystem of your
smart home from anywhere, anytime
with our user-friendly phone app
with a single touch.
Alert
Get live security alerts directly sent to
your phone & keep track of all that's
happening at your home. Stay stress-free
on vacations with your home's security
ensured.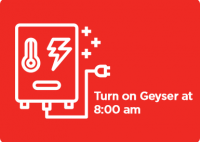 Scheduling
Schedule the run-time of all the appliances
at your smart home. Pre-set lights, fans,
air-conditioner, geyser and television
to turn ON/OFF at a specific time.
I was having a lot of trouble managing things at home since I had to work on my freelance projects after work. After reaching home every day, I used to get really tired even to do simple things like getting up and turning on the AC, choosing a suitable music track etc. With Agoraa's home automation, I can now lie back and manage my home with just a touch of the finger.
Earlier, I was really unsure about my home's security whenever I had to go on long work-related trips. With Agoraa's home automation, I'm starting to realise that this was a very important part of a secure home. With sensors installed inside the house, I can now travel worry free and everything at home is taken care of in itself.
I'm a Home Maker and my home needs to be the most comfortable place for me. Earlier I strived hard to work towards the comfort factor, but didn't really succeed. There were too many installations and more wires. With Agoraa's smart home, I can now regulate the temperature and lighting at my home with my smartphone.
Usually, getting a smart home is really expensive. When my friend told me about Agoraa, I was really surprised at how reasonable the prices were. Agoraa's service and support team are extremely efficient, helpful and responsive. This was one of my smartest investments.
{"video_yurl":"true"}